The world is going through unprecedented changes, resulting in financial panics, income inequality, political polarization, religious extremism and the loss of traditional values.
We're doing something about it
BORN 2 SOON's new CD "Message Delivered" tackles these issues head on, handing out hard-hitting critiques of our government, media and institutions while taking the listener on a joyful musical journey. Must-play songs include:
Turn Off Fox TV – Exposing the dishonest political agenda of TV news. Selected as the theme song for the Turn Off Fox campaign on www.turnofffoxtv.com
Red, White And Blue – An anti-Iraq war anthem, protesting America's war to protect its oil interests. Chosen for Neil Young's Living With War website.
What Would Jesus Do? How would Jesus feel seeing His name abused for the profit of religious ministers?
SPREAD THE WORD
Praise for tracks on "Message Delivered":
"Very engaging." – Amartya Sen, Noble Prize Winner Economics
"You guys have great talent." – Dan Barker, Host, Free Thought Radio
"This is excellent." – Edward Tabash, Chair of Legal Committee for 'Americans United for Separation of Church and State'
"It's wonderful." – Marty Essen, Host of Around the World in 90 Minutes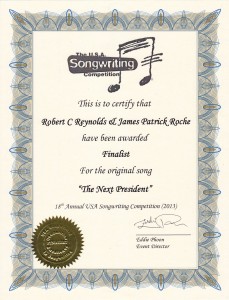 'The Next President' selected as a finalist in the USA Songwriting Competition!
Born 2 Soon's track "The Next President" has been recognised by the distinguished judges of the world's leading international songwriting contest. The song was chosen as a finalist in the 2013 USA Songwriting Competition (the 18th annual event).
You can help spread the word! Visit our Facebook Page, and tell your friends about us on Facebook, Google+, Twitter and LinkedIn: